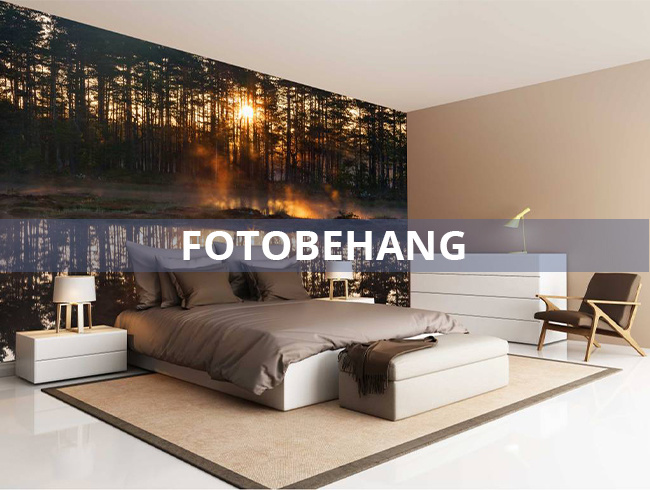 Mural
Photo Wall is the interior design trends of 2016. Choose a photo wallpaper from our collection or take a picture wallpaper customized with your own photo.
Mural is Trendy unique
Photo Wall is the interior trend of 2017. The photo wall gives you countryside interior view of a meadow full of flowers and cows, while natural bedroom only really comes to life with a green forest on the wall. And maybe you'll wake up with a tropical panorama or a world map to plan your next trip. Mural created with an own pictures is unique and will be an eye-catcher at any party.
High-quality materials
We use to produce Mural Brands only high quality materials from A. Our products are made right after you order so you have to guarantee years of enjoyment from your picture wallpaper. The Mural is adhesive so no hassles with wallpaper paste.
Sending your photo wallpaper
Within 2-4 business days after your order will be sent your photo wallpaper with PostNL. TNT strives to deliver your order within 24 hours. Once your order has been shipped you will receive an email from us with the Track & Trace code of your package so that you can track your order online. A big advantage is that we charge FREE SHIPPING with your order. That we take for our account.
Wallpaper paste Photo
When your order is always included a slice statement. Here is step by step explanation of how to put a Mural. Sticking a photo wallpaper is easy to do yourself if you before starting the instructions carefully read. If you have any questions, please contact us. We're happy to help!
Photo Wall Murals with their own design photo
Do you have an idea or want a photo wallpaper size. Again, this is not a problem. For a picture wallpaper customization, you can visit our new site. Here you can easily and quickly create your own photo wallpaper.
Go to www.mywalldesign56.com to start your design.
Is my wall for Mural?
Mural is basically suitable for all smooth surfaces such as painted walls, smooth surfaces, smooth plastered walls. Also plasterwork with a slight grain is often suitable for Mural. Spack painted walls are not suitable and fiberglass wallpaper we do not recommend as a base for photo wallpaper. If you or your wall is not suitable especially for a Mural is of course possible for us to order a sample to do a test on your own wall. You can order photo wallpaper sample by sending us an email with your details to [email protected]