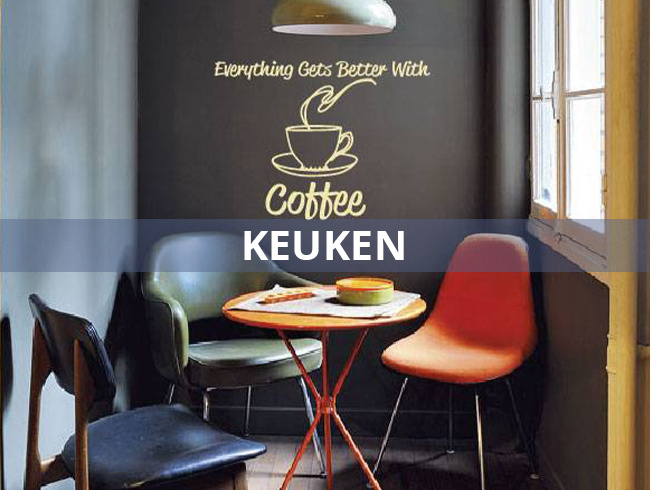 More cooking fun with wall stickers in the kitchen
Kitchens are practical and hygienic key aspects. In addition, a kitchen can of course also look nice. Too many accessories such as a living room brings anxiety and discomfort, an appropriate wall covering is ideal. A wall sticker in the kitchen bring your kitchen to life!
Wall Sticker make in the kitchen
A wall sticker for sticking on the kitchen wall is not complicated. The sticker comes with instructions in a sturdy roll, you can immediately hang up and running with the wall sticker in the kitchen. Preview the handy instruction page on our website, then you know exactly how hung wall stickers for the kitchen.
Wall Texts finish the kitchen
An inspiring text wall sticker in the kitchen brings a bit of personality to the space. There are several wall texts for the kitchen that will entertain and inspire you to prepare your meals. You can also opt for a wall sticker with a funny image as a cartoon mouse. Think also of wall stickers in a catering kitchen, thus you make any public place completely. There are many colors available for each kitchen there is to find a suitable wall sticker.
These wall stickers for the kitchen are easy to apply and, if desired, again easy to remove, on virtually any surface. Wall Stickers in the kitchen do not stand in the way, they are hygienic and make every kitchen a bit more personal, especially with the great wall texts, look quickly at the line!


Wall Stickers for the kitchen made of quality materials
We use to produce our wall stickers for living room Brands only high quality materials from A. Our products after your order will be made immediately so that you can guarantee a maximum adhesive strength and years of enjoyment from your wall sticker in your living room.
Shipment of your wall sticker
Within 2-4 business days after your order will be sent your wall sticker PostNL. TNT strives to deliver your order within 24 hours. Once your order has been shipped you will receive an email from us with the Track & Trace code of your package so that you can track your order online.
Wall Sticker paste in the kitchen
When your order is always included a slice statement. Here is step by step explanation of how to put a wall sticker. Sticking a wall sticker is easy to do yourself if you before starting the instructions carefully read. We recommend that you stick a wall sticker within 7 days of receipt in order to ensure the sticking force. If you still have questions, please contact us. We're happy to help!
Wall Sticker for kitchen design
Do you have an idea or want a wall text size for the kitchen. Again, this is not a problem. For wall stickers customized please send us an email to [email protected] or fill in our reply form on our contact page. We'll send you within one day propose a wall sticker size.
Is my wall in the kitchen for a wall sticker?
Wall Stickers are basically suitable for all smooth surfaces such as painted walls, smooth surfaces, smooth plastered walls. Also plasterwork with a slight grain is often suitable for a wall sticker. Spack painted walls are not suitable and fiberglass wallpaper we do not recommend as a base for wall stickers. If you're not sure whether your wall is suitable for a wall sticker is of course possible for us to order a sample sticker to do a test on your own wall. You can order wall sticker by sending us an email with your details to [email protected]